Discussion Starter
·
#1
·
Okay, I have done a bit of searching and found several threads related to this backrest, but none devoted to it. So I want to share my experience with this product in case anyone else may be interested in one in the future.
Motive
Like many others, I have terrible riding posture. For almost two months I have tried and tried to correct this but to no avail. I have always wrestled with minor back pain and it certainly wasn't enough to keep me off the Rebel, but really took away from the enjoyment out of the longer rides.
I began searching the internet and this forum for any possible solution to my problem. As it turns out, there are not very many options out there. I did not have the money for a Corbin seat/backrest combo and didn't find a DIY option that completely fit the bill either (though there are many very innovative ideas out there).
So I settled on the Protac since it offered the most simple, easy to use, attractive, and high quality product to meet my needs.
Price and Ordering
All orders for the Protac Driver Backrest are made over the phone. Most often, you will get a hold of Harold, the owner of the small business which is located in South Carolina. I have recently helped them update their website as well allowing me to get to know Harold and his team a little bit more. They really are a great group of people that enjoy what they do.
This particular backrest for the Rebel 250 is $125. Shipping via UPS Ground from South Carolina to Dallas, TX was another $12 bringing the grand total for the entire order to $137, which was within my budget.
When you call to place the order, they will ask you for your height as they adjust the rods in the backrest so it is optimized for your riding comfort. Obviously, if multiple people ride the bike, you may want to aim for something in the middle. I believe the modification they make is fairly mild, but worth noting. It took less than a week for them to build my backrest and another three business days for UPS to deliver it. Total time from order to delivery was less than two weeks.
You can find more info at their website:
http://www.protac.net
Installation
Well, there isn't much to say here. Installation took less than five minutes and I am including the time it took to get my tools out of the closet. Included in the shipping box are installation instructions which consist of three very simple steps:
1. Remove the strut bolts behind the driver seat on both sides.
2. Place the mounting brackets onto the struts and replace bolts.
3. Place support rod with backrest pad into the tubes on the mounting brackets.
Here is a picture of the mounting bracket to help you visualize the simplicity of the install.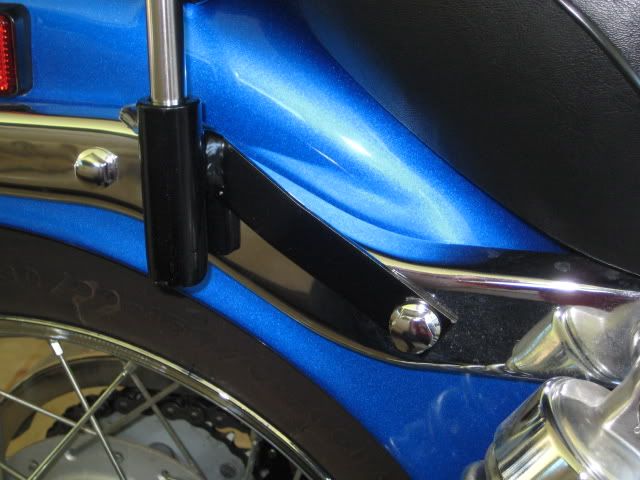 That's it. Seriously, that even made it sound harder than it was.
Conclusion
I have now put over 100 miles on the new Protac Driver Backrest and I am very, very happy to say that I have not experienced even the slightest bit of back discomfort since the install!
I know that other users of the Protac have mentioned that there was still a moderate amount of discomfort for them, but I have been completely satisfied with the results. Not only is the backrest very well built and attractive, it makes riding so much more enjoyable without constantly trying to fix my poor posture.
I had a few initial concerns that were quickly resolved:
First, I was worried about the strength of the backrest. Let's be honest, at first glance it doesn't seem so sturdy. However, that could not be further from the truth. This really is a very high-quality product and its strength has greatly exceeded my best expectations.
Second, I was also worried that the backrest would either push me too far forward or pull me too far back. This was probably my greatest fear. Once again, by simply giving them my height (6'1") they worked their magic and it is in the perfect position. I honestly would not adjust my backrest a single millimeter in either direction.
Third, I was concerned about the padding material. Like my other concerns, this was quickly blown away. The pad quality is equal to the stock seat and has been very comfortable to lean against for extended periods of time. It does not feel too stiff and stab me in the back, nor does it give too much and make it feel like I am leaning against the support rods.
Before installing the Protac Driver Backrest, I was getting ready to do some customizing to my stock seat as well. At the very least, I had plans to removing the metal plate in the foam. After over 100 miles with the Protac, I don't believe I am going to go through with any of these seat mods. For some reason, the new backrest has helped me consistently sit in just the right spot and I have very few, if any, complaints about the seat any longer. And this is saying a lot for a guy who is 6'1".
To sum it up, this has been the best mod to date for me. After only 100 miles, I have a hard time imagining taking any trips of considerable length without it. I definitely recommend it.
Here are some pictures of the new backrest on Big Blue!