Here's another link with parts diagram...
1986 Honda CMX250C A LEFT CRANKCASE COVER | Ron Ayers
Sorry, cant help you with the PDF... i had to go out and buy a manual, couldnt find one for download.
Just to add a little more to the conversation:
Completed the starter clutch rebuild last night. Not too terribly complicated but a couple of key things worth noting.
I didn't have either the flywheel holder or 'rotor puller' as they call it. I assumed I would be able to put the bike in gear and have my girlfriend hold the rear brake while I loosen the Flywheel bolt, but not so much.
Not sure if the clutch on her bike is just weak, or if the clutch on the 250 just cant really hold that much power, but the clutch just slipped when I tried this. I wound up just using a pneumatic impact to remove it, piece of cake... When time to bolt it back and torque it down I used a large rubber strap wrench around the flywheel to hold it and had my girlfriend pull the Tq wrench till it clicked. Kind of a pain, but it worked.
On the flywheel removal... It appears as though if you had the proper size bolt you could just thread it into the flywheel and push it off of the crankshaft. Unfortunately however I didnt have an assortment of large bolts to play with, so I rented one of the 3 pronged jaw pullers from Auto Zone. I put the flywheel bolt back into the crankshaft and threaded it down with just about a 1/8" gap, then used the bolt head for the jaw puller to press against. This worked for removing the flywheel but I was amazed at how much pressure it took to break it loose.
When I got things tore down I was quite surprised at what I had found... the springs were badly worn as I had expected, after all the bike is nearly 30 years old. BUT... one of the spring caps had actually had the cap end break off... so the spring itself was protruding through the cap and pushing on the roller... needless to say this roller wasn't engaging properly....
Anyway... just a little more info for what its worth...
---
Semper-Fi
Join Date: Aug 2014
Location: Southern Alabama
Posts: 2,266
Having the correct tools is a must when removing the fly wheel, a three prong puller can very easily warp the fly wheel rendering in useless. If the transmission is placed in gear with the brakes locked to remove the fly wheel bolt (or the clutch nut for that matter) the transmission can easily be busted. If you think not just ask those who have done it -- like me.
---
1986 Honda Rebel 450 28,000 miles
1987 Honda Rebel 450 5,000 miles (sold)
2009 Honda Rebel 250 8,000 miles
1983 Honda CX 650 twisted twin 6,000 miles
No argument about the right tool for the job... but I have done a lot of these in the past on much bigger engines and never had a problem with the brakes / clutch / transmission being able to hold the crankshaft while you apply 43 ftlbs of tq... And unfortunately none of the parts stores had the tools to buy / rent. (I tried)

But, I guess that's the difference in a transmission which handles 135ftlbs of tq and this little 250. I'm glad the clutch slipped and I didn't break something.

Just out of curiosity, what did you break?
---
Semper-Fi
Join Date: Aug 2014
Location: Southern Alabama
Posts: 2,266
Jutah, please don't get me wrong I am in no way putting you down nor the way the bike was disassembled. I am only trying to prevent some of our beloved newbies from braking their bike beyond their capability of repairing it.
To answer your question of what did I brake, I broke one of the clutch dogs, and I am not the only forum member that has done this.
---
1986 Honda Rebel 450 28,000 miles
1987 Honda Rebel 450 5,000 miles (sold)
2009 Honda Rebel 250 8,000 miles
1983 Honda CX 650 twisted twin 6,000 miles
No worries at all old school... I didn't take offense...
I read the forums to learn from others mistakes so as not to make my own, and to gain knowledge from others who have been there... Also to share stuff I find.
And I'll be the first to admit I don't know 'everything'.
I was pretty shocked that the clutch couldn't hold against me trying to break that bolt loose though, it will probably be the next thing I dig into.
I'm pretty surprised the dogs are breaking, would not have expected that!
Here's the tear down from my big cruiser, when I built a race engine for it and had the gears 'race cut'
http://i206.photobucket.com/albums/b...s/DSC06867.jpg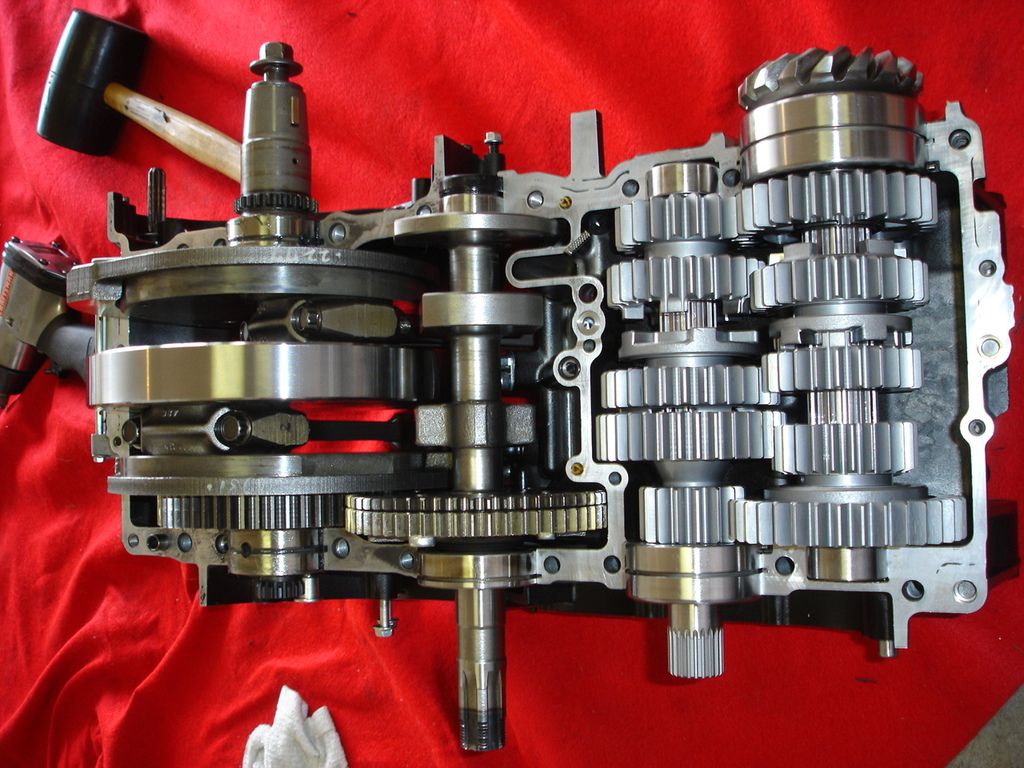 ---
Semper-Fi
Newbie
Join Date: Sep 2015
Posts: 8
Hey to all I have redone my starter clutch Just wondering do i grease or oil around the main shaft or not so rollers can get friction??? CM 250 1983 Honda Custom..
Newbie
Join Date: Nov 2015
Posts: 3
Newbie
Join Date: Nov 2015
Posts: 3
Quote:
Yes, it's too long. It will be in a pdf file.
Could you e-mail this to me also?
[email protected]
Newbie
Join Date: Feb 2016
Posts: 1
Hi everyone,
Just had a quick question for anyone who might know the answer.
I was riding my Honda Rebel 250 yesterday after an oil change going about 55-60ish when i noticed it started loosing power. i did not throttle down but the bike was loosing power at an increasing rate. When i pulled to the side of the rode and tried to take off again nothing happened. I can put the bike in first gear release the clutch and the bike acts like it is still in neutral. The bike does not lurch forward and die it just ideals. so i am thinking that the clutch is not engaging. Any thoughts or suggestions would be much appreciated. Thank you for your help.
Join Date: Aug 2014
Location: Southern Alabama
Posts: 2,266
Welcome to the forum gozaj, when the clutch starts going out the engine will rev but the bike will loose speed and this is most noticeable in the higher gears first. Make sure you have the proper clutch adjustment, the clutch lever should pull back about 1/2 inch before any resistance is felt.
---
1986 Honda Rebel 450 28,000 miles
1987 Honda Rebel 450 5,000 miles (sold)
2009 Honda Rebel 250 8,000 miles
1983 Honda CX 650 twisted twin 6,000 miles
Currently Active Users Viewing This Thread: 1

(0 members and 1 guests)
Posting Rules

You may post new threads

You may post replies

You may not post attachments

You may not edit your posts

---

HTML code is Off

---