Hello from Canada eh!
---
After many years where I simply didn't have the time, I finally got a motorcycle license and started shopping for a bike. I knew I wanted a Honda, and was originally looking at nighthawks but found a deal on a Rebel that I simply couldn't pass up. Here she is, as she looked when I got her: a deep blue 1985 250 Rebel with 7900 original kilometers. Only modifications are the windshield, bags, and aftermarket adjustable brake and clutch levers (and associated master cylinder).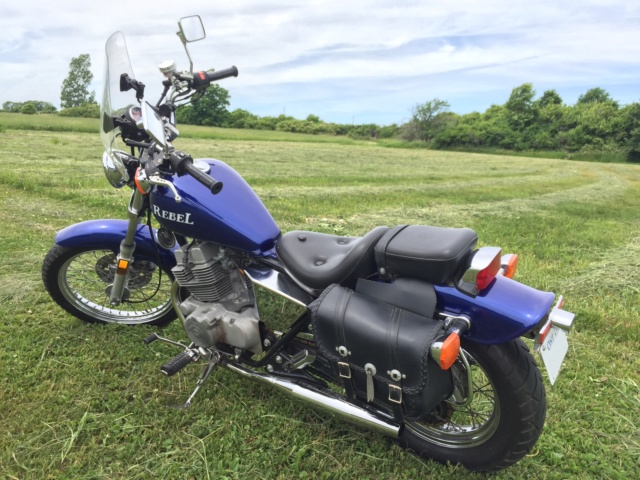 I've since had a fantastic summer where I've put over 2500km on this bike, and started to personalize it, though I'll be posting those changes in a "build thread" style post in the modifications section.
Nice to meet you all, and hope to share some of my experiences.
Sincerely,
Blue
Moderator
Join Date: Oct 2011
Location: Maine
Posts: 3,446
Nice bike! Welcome to the forum.
---
1985 CMX250 ... 1986 CMX450 ... 2005 Ruckus 50
Keith from Maine USA - Banning Spammers since 2016
Moderator
Join Date: Aug 2008
Location: Monroe, Louisiana
Posts: 28,463
Welcome. Sharp looking bike!

If you plan to keep the windshield (I would), you might want to tilt the top rearward some. The general rule of thumb is to angle it so it's generally parallel to the front forks.
Join Date: Sep 2016
Location: Northern Virginia
Posts: 1,905
She's beautiful, and if she doesn't have an in-line fuel filter, I'd recommend adding one, it will save you a lot of issues later on...
---
2009 Honda Rebel 250; 2009 Honda Shadow 750 Spirit
"The bravest thing for me to do is admit when I am wrong"
-
unknown
HRF Answer #1 You should take the MSF Rider Course
HRF Answer #2 You need to clean your carburetor
HRF Answer #3 Sorry we assumed if you didn't say otherwise
Moderator
Join Date: Feb 2011
Location: Melbourne,Victoria. Australia
Posts: 7,709
Welcome to forum n enjoy your ride
---
2000 rebel 250 Aussie My Baby.
2012 honda PSX 150cc scooter [in Thailand]
1986 rebel Silver 450 Elvis
putting your bike info in your signature helps others help you !
Thanks for the warm welcome guys!
@
flitecontrol
: Thanks for the tip! However after some experimentation I ended up preferring to remove the windshield for the type of riding I do.
@
kryton
: thankfully she does have an inline filter, it's just hidden behind the air-box cover at this angle.
Gorgeous bike.
---
Grace + Peace, Bob
2007 Honda Rebel 250 - Red. Stock.
I'm 83 and still riding
@
Bokobob
Thank you!
Check out my "build thread" in the "cool mods detailing and appearance section" for updates on what I do with it.
---
1985 Rebel 250 (in blue of course).
Currently Active Users Viewing This Thread: 1

(0 members and 1 guests)
Posting Rules

You may post new threads

You may post replies

You may not post attachments

You may not edit your posts

---

HTML code is Off

---