Newbie
Join Date: Jul 2010
Location: Simi Valley,Ca
Posts: 4
Post pics of your bobbed honda rebel!
---
[/url][/IMG]
[/IMG]Post pictures of your custom Honda Rebel Bobber!
Sweet...
Lovin the rear struts
sox
Join Date: Aug 2009
Location: DC
Posts: 74
Nice bike! Is it tough to ride with solid struts and the seat on the frame? KI bet you feel eveything!
---
85' Rebel 250
Join Date: Jun 2010
Posts: 24
Your pipes are just cut off? I can't see if they are muffled. Hows the sound?
Newbie
Join Date: Dec 2009
Posts: 8
Join Date: Aug 2009
Location: DC
Posts: 74
---
85' Rebel 250
Newbie
Join Date: Jul 2010
Location: Simi Valley,Ca
Posts: 4
Thank you all for the posts,The bike rides pretty nice with the struts,but I decided to put the shocks back on due to the fact that the first day i rode it across town I woke up the following day with a sore lower back.As for the pipes they are just cut off right at the bend with no mufflers and I didnt have to re-jet, its still very responsive and I got it to hit 80mph with no bogging at all and I weigh 200lbs. I think it sounds good,but it is very very loud,but I like loud and annoying so it works well for me LOL! P.S very nice bikes keep them coming.
Well, it is pretty even if it isn't practical. I'm more into comfort and saddlebags for my own ride, but I always enjoy seeing the creative stuff others come up with. Nice work!
---
'09 Rebel 250

Loud ties save lives.
Those are pretty cool!
Here are some pics of mine.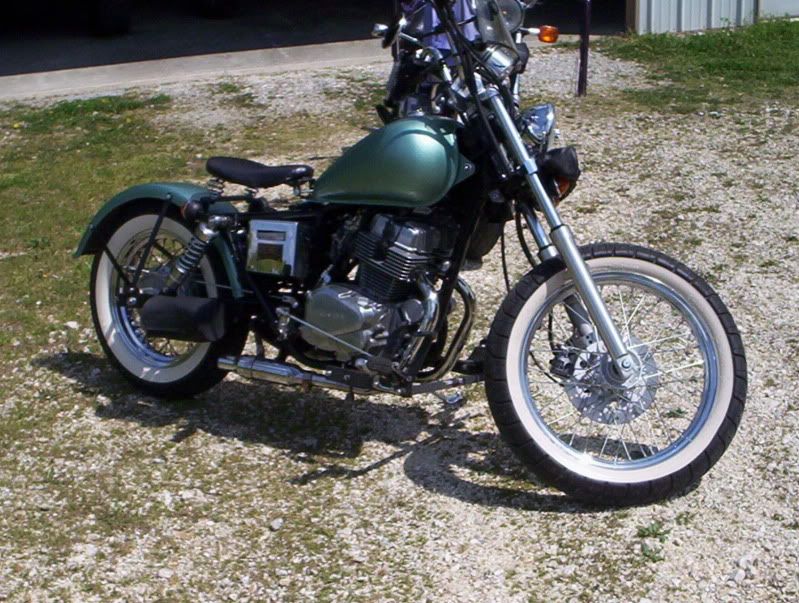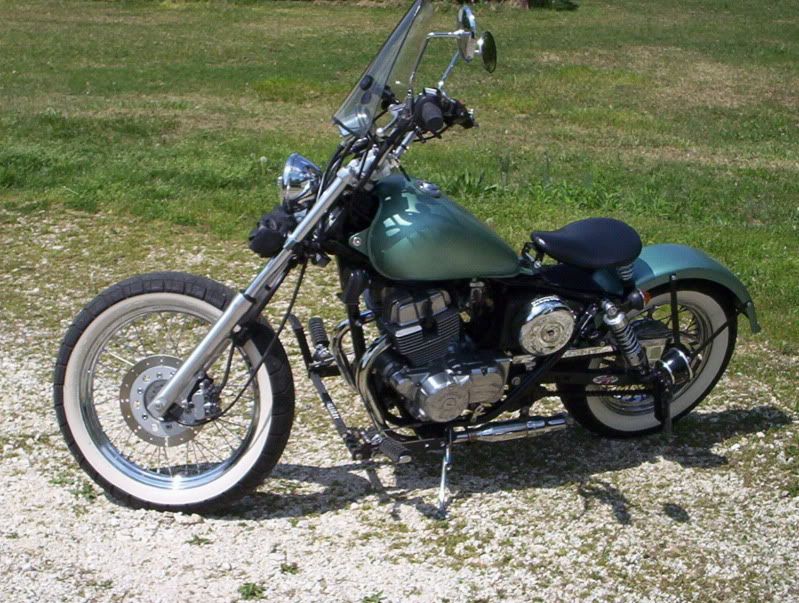 ---
Current Rides: Drive less Ride more!!!
09' Rebel 250 Bobber (General Lee Tribute)
05' Rebel 250 stock dressed in 09' Blue with WWW tires
86' Rebel 250 Limited (black/gold)
79' Hawk CB400T (black)
92' Shadow 1100C (red/silver panels and frame)
Newbie
Join Date: Jul 2010
Location: Hollywood CA
Posts: 9
Bobber
---
06 250 Rebel Bobber
---
2004 Honda Rebel Bobber
Currently Active Users Viewing This Thread: 1

(0 members and 1 guests)
Posting Rules

You may post new threads

You may post replies

You may not post attachments

You may not edit your posts

---

HTML code is Off

---