Blue's Rebel Alterations
---
Hello everyone,
After wanting to ride for many years I purchased my first motorcycle last June: a deep blue 1985 Honda 250 Rebel with ~7500 original kilometers, with no mods except for the bags, windshield and aftermarket brake/clutch levers.
I spent a wonderful first summer learning to ride, where I put over 2500kms on the bike in all kinds of conditions from city streets to country lanes, rain or shine.
Surprisingly, the bike seems to fit me quite well on account of my slightly strange body proportions (long arms & torso/short legs).
I originally planned to keep her completely original, on account of all the other projects I have going on, but the urge to change a few things slowly set in.
Having helped restore classic cars and wrench on hot-rods since I was a kid, I'm not going to follow any particular style, though I may draw on a few elements here and there. Mostly I just want to do what feels right both in terms of looks and ergonomics, while taking my time and keeping the bike running so I can commute. I'll keep this "build thread" going to chronicle what I've done.
Unlike many, the rear fender is one of my favorite design cues, and is here to stay.
Here she is as I got her in June: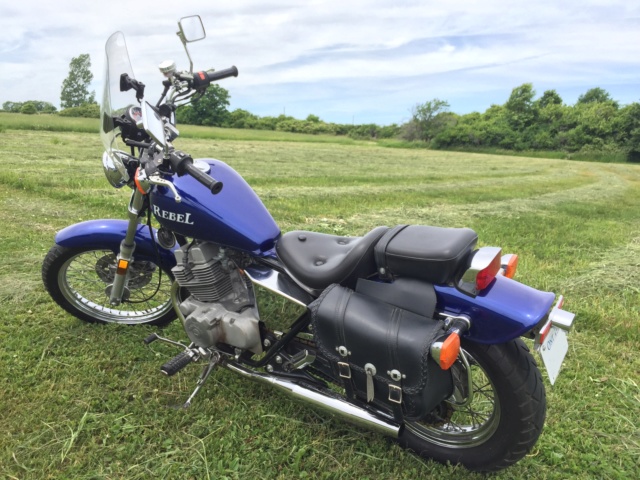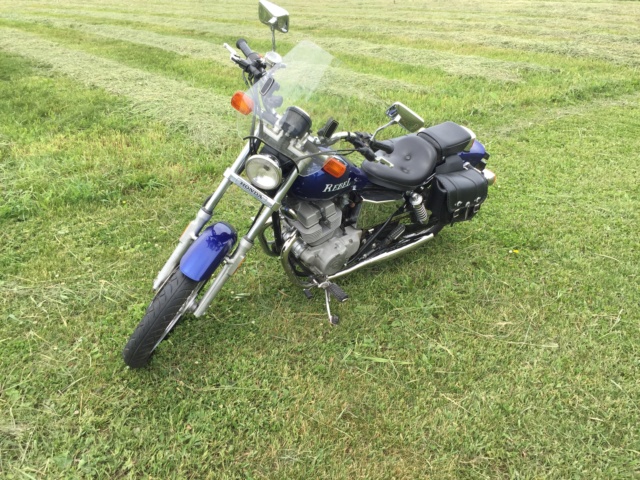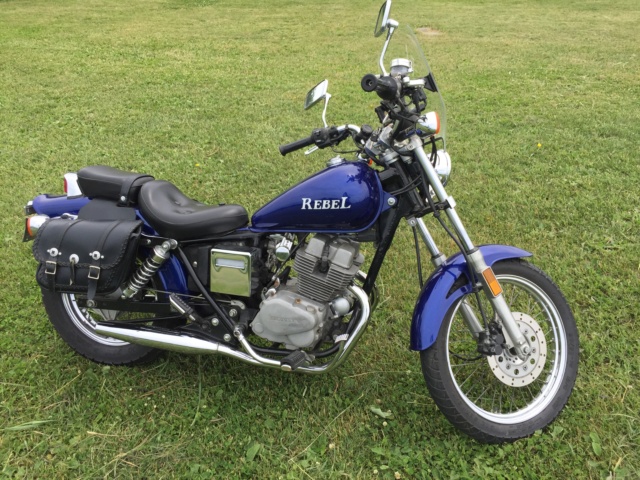 I started by buying a service manual, cleaning the air-filter, draining the puke tube, and doing an oil change to Castrol ActEvo (Equal to or better than the service manual requirements).
I then drove her for about a week before deciding that 1: I wanted to try with the windshield removed, mainly for looks, and quickly done. 2: The saddle-bags were not much use to me, as I usually bring a backpack in with me and don't like fumbling with the buckles. They came off quite easily, though removing the bag holders left two unfilled holes in the fender bracket.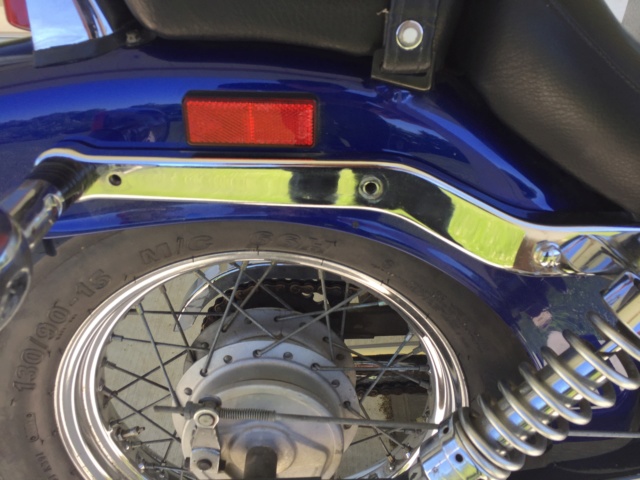 The NOS bolts were not available from the dealer, so I bought 4 stainless steel bolts of matching thread size, ground the heads down and polished them on the buffing wheel to look like factory ones. Which left her looking like so: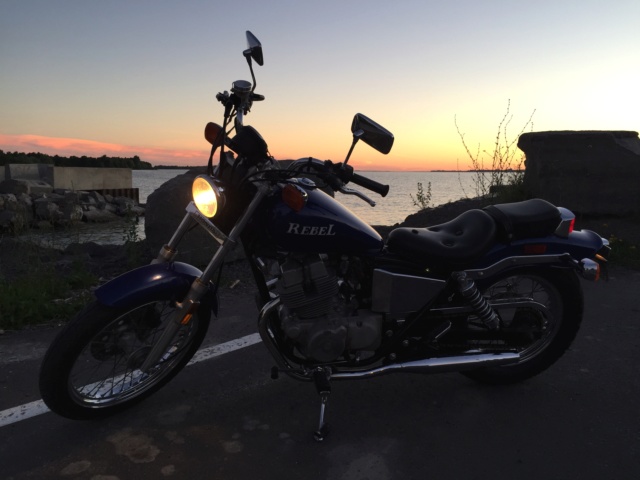 More updates soon!
Cheers!
-Blue
---
1985 Rebel 250 (in blue of course).
looking good I must say..
---
96 VS800 Intruder (sold 2018 ), 87 CMX250C Rebel,

79 CB400 Hawk (sold 93), 75 CB350 (sold 83), 71 CB350 (stolen 74)

Help others help you, Include Year in your signature...
@
SoakedKarma
: Thanks m8! Nothing crazy yet.
Next I ordered NOS Honda engine cover bolts to replace the rather rusty ones that were there. Also cleaned up most of the dirty rust residue on the cover with a cotton wheel on a dremel.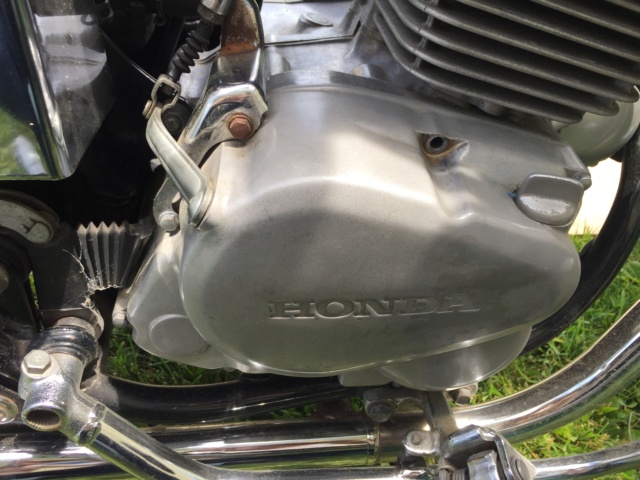 There you have the before pics. I'm rather bad at remembering to take after pics, so take my word for it
---
1985 Rebel 250 (in blue of course).
Join Date: May 2005
Location: Las VLXas (Vegas, baby!) NV U.S.A.
Posts: 11,910
FWIW there are aftermarket outfits offering those engine bolts in colors such as blue...check some of the outfits like J&P Cycles and Dennis Kirk etc.
---
"Ride Safe, Chop Safer" Motorcycles are not unsafe. However; they are extremely unforgiving of inattention, incompetence, ignorance, and stupidity.
Dismantling, sawzalling, and rattle canning does not make a bobber.
Those are STEPS toward customizing, not customizing unto itself.
@
Shadow Shack
: Thanks! I'll be sure to check those out!
So about 3 weeks into ownership, I rode into town to do some regular errands, and parked at my usual "safe" spot at the very back of the library lot. I was gone for half an hour and came back to my bike looking like this: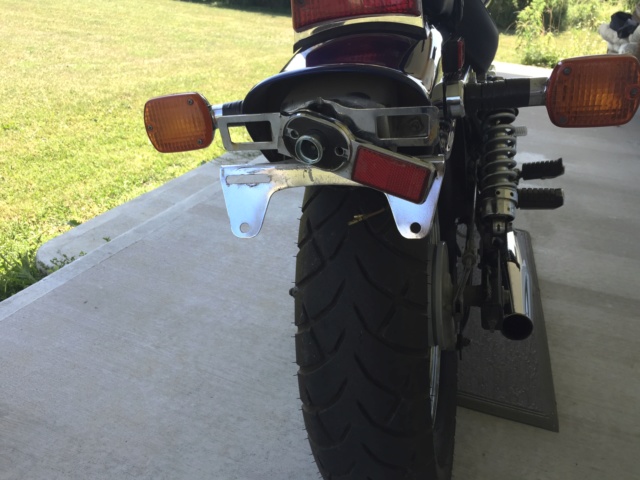 In sum: Broken left turn signal stalk (taped up in the pic so I could get home), cracked license plate, bent license plate bracket, broken reflector & chrome trim, broken license plate light and bulb.
The turn signal didn't bother me too much, since I'd been wanting to change them. However, upon looking on Ebay, the reflector trim and plate light assembly were going in the 100USD range.
Being from Canada, and having to deal with exchange rates, shipping fees, duties, and broker fees, not to mention the wait time to get the part where I wouldn't be able to ride, I decided to make my own instead. I'd never liked the look of the protruding stock one anyways.
Stripped everything out first and freed the loom from the plate bracket. Decided to take care of surface rust on the inside of the fender.
Wire brushed, treated with Dupont rust inhibitor, primed, and rattle-canned black (after being all masked up of course). The grommets were taken out for this process.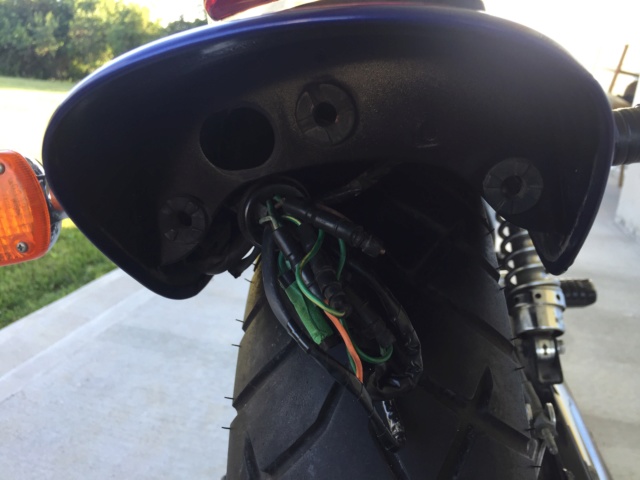 Toyed around making an aluminum spacer plate but ended up not using it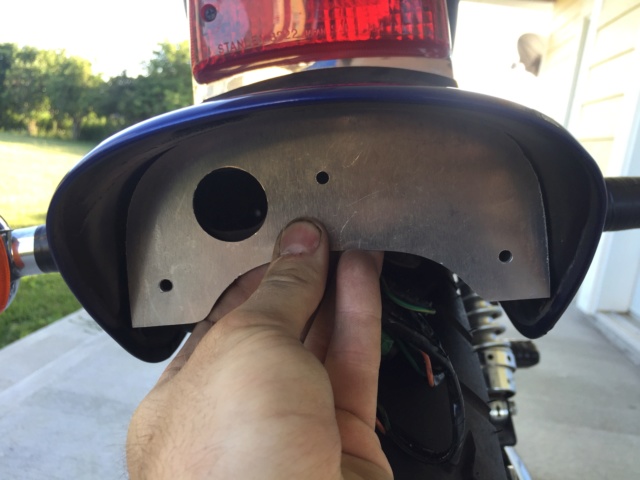 ---
1985 Rebel 250 (in blue of course).
Moderator
Join Date: Aug 2008
Location: Monroe, Louisiana
Posts: 28,463
Sorry that happened. Did someone back into you, or was it vandalism? Either way, the person involved was a sorry individual IMO.
@
flitecontrol
: From the way things were bent, it seems someone must have parked along side and not checked their front-end swing when pulling back out. How they managed to not knock the bike over is quite a mystery. Very frustrating. From driving classic cars around I've come to realize that many people are hard-wired to go park right up against bright shiny things, even when they're way out at the pack of an empty lot.
After some trial-error, I decided to use the stock bracket as a starting point so as to retain the stock insulated wiring connector box and anti-vibration mount system.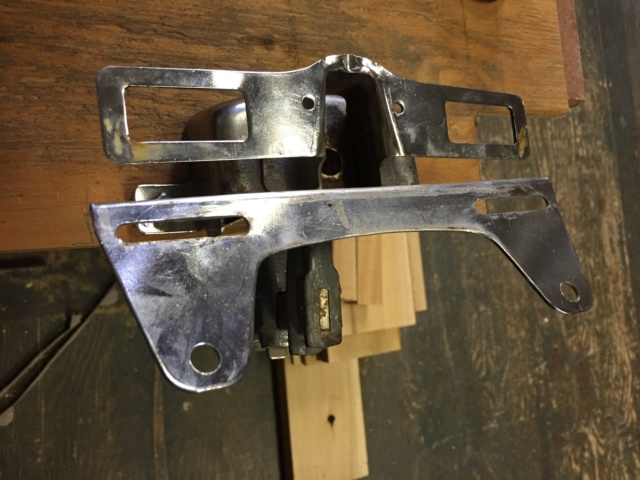 Cut off all the protrusions with an angle-grinder, keeping just the box. Chrome was flaking anyways, so I hit it with a wire-wheel, primed, and rattle-canned a first coat onto it.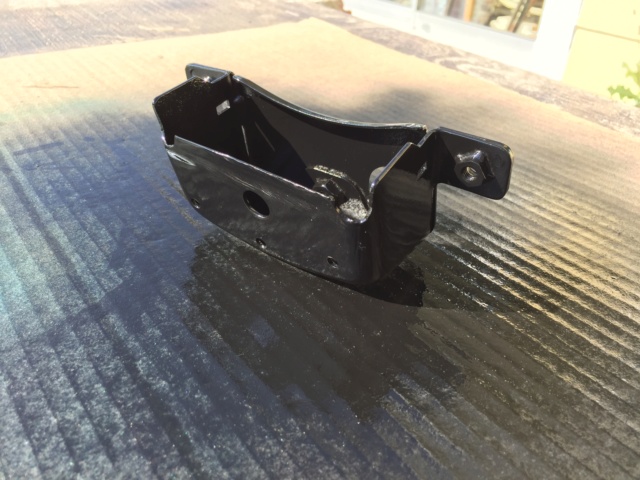 I wanted the new plate mount to site as high as possible, so as to expose more of the rear tire and make the bike look bigger. I'm aware that some people relocate the tail-light under the rear fender, but I'm relatively fond of the stock toaster-style light.
I cut an aluminum plate to match the license and fender contour (with some room left for reflectors), scribed a line in it with a cut-off wheel to get a sharp bend, and slowly bent it using a bunch of clamps on a flat steel bar with a sharp edge. I repeatedly tested it on the bike until I got the angle I wanted.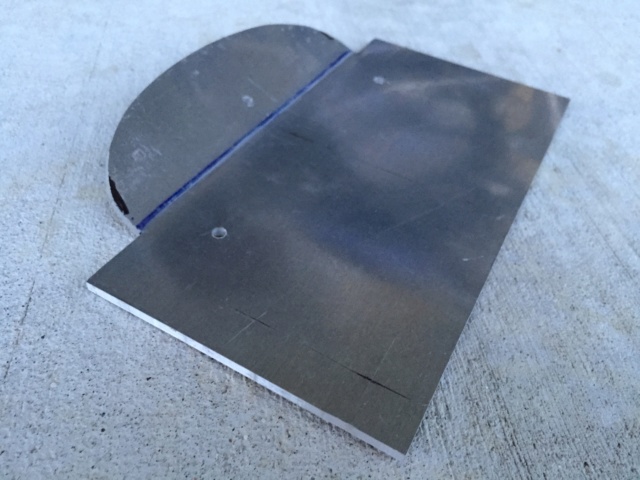 Picked up a standard universal license plate light at the local store. Much sleeker than the original Rebel one.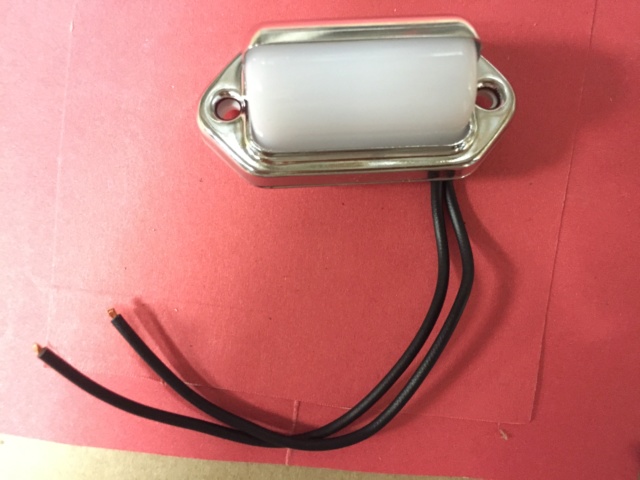 ---
1985 Rebel 250 (in blue of course).
Update: Finalized the shape of the plate mount. Although it appears to have a bunch of random holes at the top, they do all serve a purpose.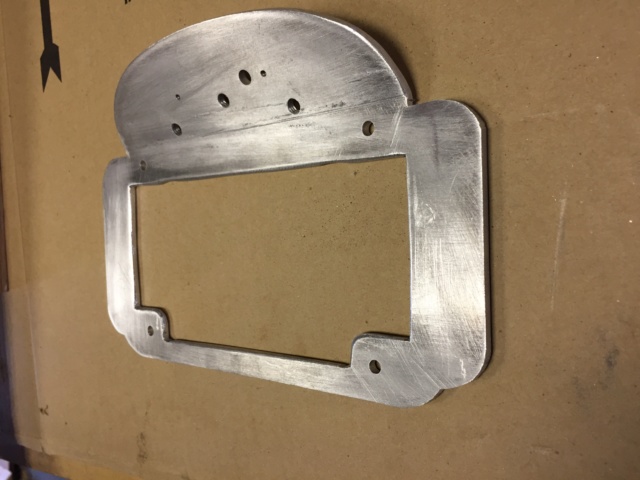 Mounted to the electrical connection box via threaded holes, lots of loc-tite and notched threads.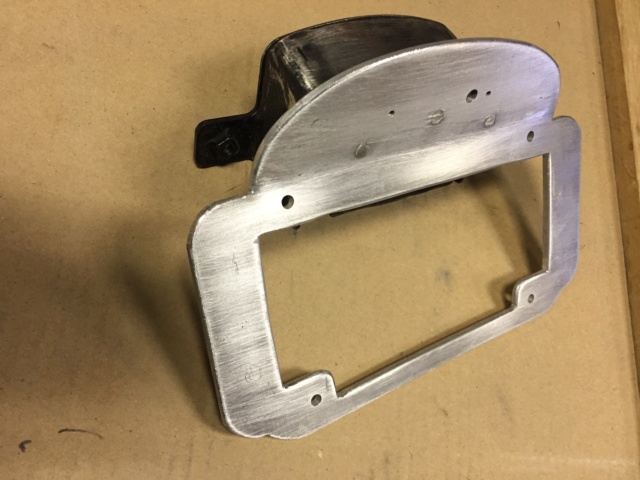 ---
1985 Rebel 250 (in blue of course).
Moderator
Join Date: Aug 2008
Location: Monroe, Louisiana
Posts: 28,463
Looks substantial. You won't have any problems with the plate cracking from vibration!
@
flitecontrol
: Perks of using aluminum: the whole assembly weighs the same, if not less, than the original steel tabs. I had to do a little overkill, and secure the plate at all 4 corners, since it now rests higher and much closer to the rear wheel. I wouldn't want someone to nudge/bend the plate down, and then have it catch in the tire.
Finalized sanding and shaping the bracket assembly, then sprayed it with my absolute favorite rattle can: VHT valve-cover wrinkle paint. I really love this stuff because it forms a tough, almost rubber-like, coating that bonds really well to aluminum (unlike many other spray cans and primers). It also produces a cool factory-ish finish, and should help the license plate bracket disappear a bit more. The only disadvantage is that it takes a solid 48 hours before you can handle the part without leaving finger marks, and a good 5 days before it's rock hard.
Assembled the license plate light and added some reflectors (on the sides this time, instead of the bottom).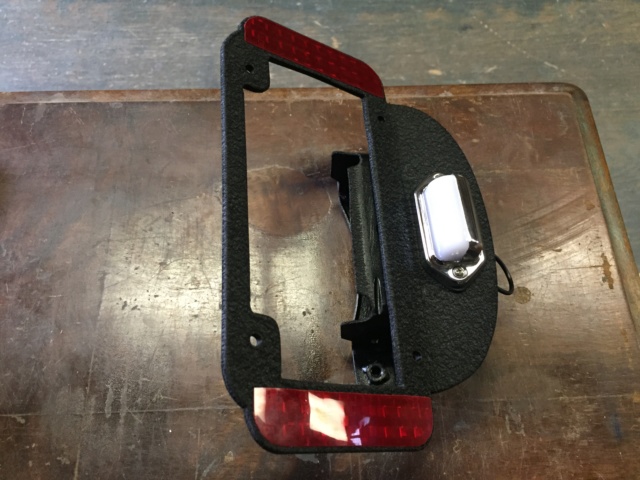 ---
1985 Rebel 250 (in blue of course).
Currently Active Users Viewing This Thread: 1

(0 members and 1 guests)
Posting Rules

You may post new threads

You may post replies

You may not post attachments

You may not edit your posts

---

HTML code is Off

---