Join Date: Jan 2009
Posts: 27
FAQ: Valve Adjustment
---
Does anyone know of a write up on how to do a valve adjustment?

Thanks,
Jim
I haven't done one of these yet. I don't know of any web sites. Best bet would be to buy a Honda service manual. The manual issued for 1996 covers years up to '99. The manuals issued in 2000 cover the 1996-2008 years for sure and maybe the 2009 year. If you get a Clymers you might be disappointed, so just save yourself the hassle.
---
MC.com ruined this forum

bye, bye
I looked through search for awhile, and found nothing. I probably used the wrong terms. I've done it twice so far, using Clymer's directions. The first time was a success, The second less so. I couldn't get a gap to measure in any position.
Tool list:
8mm wrench (seat)
9mm wrench (valve lock nut)
12mm wrench (valve cover)
5/8" Spark plug socket
Large flat-head screwdriver (crankcase access covers)
Needle-nose pliers (valve screws)
14mm socket and ratchet (turning crank to TDC)
Feeler gauges (0.076mm or .003")
Proceedure:
Disconnect negative battery lead (for safety)
Remove seat.
Turn off petcock, remove fuel line at carborator.
Remove fuel tank.
Remove Spark plugs.
Remove valve cover, two 12mm bolts on top.
remove timing cover and crank access cover on left crankcase cover (img 1). (Be careful, these can be wallowed out easily. Use a large screwdriver, large washer or other tool to remove these.)
[
NOTE
: for reference we will assume cylinder #1 is the left cylinder (as you are facing front from riding position). Cylinder #2 is the right cylinder.]
With 15mm ratchet turn crank COUNTERCLOCKWISE until you see the "T" on the flywheel through the timeing inspection hole (img 1).
[img 1]
Note the direction of the notch on the end of the camshaft (img 2). If it is pointing towards the rear of the bike, then you are going to be working on cylinder #1, if it is pointing towards the front, you will be working on cylinder #2. The rocker is the dark piece of metal with a nut and a screw going through it (img 3). Grab one of the rockers on the cylinder you are workng on and give it a slight tug up and down, it should move slightly.
[img 2]
Valve Adjustment:
Loosen the nut on top of the rocker arm, and loosen the screw enough to insert your feeler gauge.
Insert .076mm (.003") feeler guage between the screw and the top of the valve (img 3)
[img 3]
Tighten the screw until the feeler gauge has resistance when you pull it. It should not move freely, but rather have some "drag" on it. With the feeler gauge still inserted, tighten the lock nut by holding the screw with needlenose pliers and turning the nut tight with a 10mm wrench. Check the clearance again when you remove the feeler gauge, it should drag. Re-adjust as necessary.
Repeat the valve adjustment for the other cylinder by rotating the crankshaft counterclockwise 360 degrees and line up the "T" at the top again.
Replace valve cover. NOTE: be sure that the gasket is smooth in the groove with no pinches, cuts or breaks.
Tighten the valve cover bolts to 7ft-lbs.
Replace fuel tank.
replace fuel line.
turn on petcock.
Replace seat
Re-connect battery.
[credit for images to Tom O.]
---
Comments contained in my posts are not intended to cause physical or psychological stress and are mearly my two cents worth, and in this economy, that's cheap!
Midnight Venture - Black Lithium II...

I like those pictures better than the manuals.
---
MC.com ruined this forum

bye, bye
I understand perfectly, however my confusion is the factory service manual that talks about 1 piston and adjusting the 4 valves at the same time? Or one piston and a camshaft turn was lost in traslation?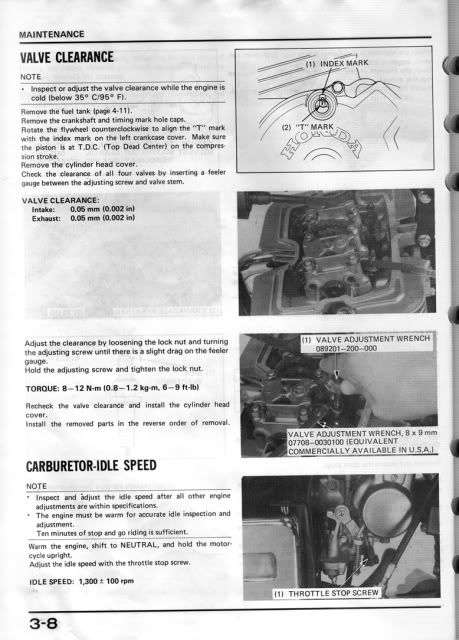 Okay, I'm about to do this again. I did it once about 500 miles after the Dealer did my "warranty" adjustment, and again just a couple hundred miles ago. I used Clymer's instructions both times. The first time was slow because it was my first time, but everything went the way the book said it would. The second time, I couldn't get a gap on any of the valves, so I put the two I had loosened as close as I could get them to match the other two. It runs and sounds good, but I'm really afraid of burning my valves. I have everything open, including a cold beer. I'm going in!
I just adjusted again, based on Cagie's concise instructions, and Tom O.'s fine pix. Everything went just as smooth as could be. Three of my valves needed to be loosened up just a hair. I will sleep much better tonight. It took me longer to get the last pillion seat screw into place than it did to do the adjustment.
Join Date: May 2009
Location: Honesdale, PA, via York, UK
Posts: 264
Valve adjustment ...
---
These instructions are fantastic!
Some quick questions:

1) Can someone provide a list of tools needed? (I saw this somwhere but can't find it.)

2) Is this basically all the dealer does at the infamous 600 mile "check-up" (apart from checking the chain tension)?

3) If the answer to 2) is "yes", is the warranty still in effect if I skip the dealer and do it myself?

4) Will this thread remain online permanently so I can do this, say, next spring? (I'm assuming the answer is "yes", but just checking).

Again, thanks to all the wise heads popping up around here!
Tool list added to original post.

The instruction will probably be moved to the "How to and Tech Tips" if there is enough interest to keep it.
---
Comments contained in my posts are not intended to cause physical or psychological stress and are mearly my two cents worth, and in this economy, that's cheap!
Midnight Venture - Black Lithium II...

Currently Active Users Viewing This Thread: 1

(0 members and 1 guests)
Posting Rules

You may post new threads

You may post replies

You may not post attachments

You may not edit your posts

---

HTML code is Off

---