Join Date: Nov 2016
Posts: 199
another new Rebel owner
---
And I mean a NEW Rebel. Brand new 2016, currently with 15 miles on it from the ride home from the dealer. Not my first Rebel, I have had two others, an '85 and an '04. When I saw the pictures of the 2017 Rebels, I didn't care much for them. So I sold a Kymco scooter, and bought a new classic Rebel. I'm going to hang onto this one.
Moderator
Join Date: Oct 2011
Location: Maine
Posts: 1,638
awesome! welcome to the forum
---
1985 Rebel 250 Project ... 2005 Ruckus
... 2003 Shadow Spirit 750
Keith from Maine USA
Banning Spammers since 2016
Join Date: May 2005
Location: Las VLXas (Vegas, baby!) NV U.S.A.
Posts: 10,538
Congrats...
Quote:
and bought a new classic Rebel.
Contemporary. The Classics were made in the 1980s. The 2017 models are Not-Rebels.
---
"Ride Safe, Chop Safer"
Motorcycles are not unsafe. However; they are extremely unforgiving of inattention, incompetence, ignorance, and stupidity.
Dismantling, sawzalling, and rattle canning does not make a bobber.
Those are STEPS toward customizing, not customizing unto itself.
http://shadow-shack.20m.com
Join Date: Nov 2016
Posts: 199
You are correct. I bought an '85 new back in '85. $1299. I always liked the '85-'87s the best. I liked the pullback bars and the sidecovers, especially the battery box. On my '04 I replaced the stock sidecovers with the steel black painted ones from BCB. I intended to eventually have them chromed. I butchered that one up pretty good. This one I'm leaving mostly stock. I may even leave the sidestand and clutch safety switches on it. Most of the modifications will be add ons. A backrest and rack, saddlebags, maybe a windshield, and definitely the forward controls kit from BCB. My knees were hurting after 15 miles with the pegs in the stock location. I made my own extension brackets for the '04, and never did get the brake linkage finished. I want this one to be something I can travel on, rather than a custom. For the moment it is just a dark red '16, completely stock, right off the showroom floor. Looks identical to my former '04 when I first bought it. I'll get a picture soon.

I don't know what to call the 2017s. They don't look anything like a Rebel. I think Honda should have come up with a new name, rather than put a classic name on something that doesn't even resemble it's predecessors.
Moderator
Join Date: Feb 2011
Location: Melbourne,Victoria. Australia
Posts: 7,035
Welcome to forum n enjoy your ride
---
2000 rebel 250 Aussie My Baby.
2012 honda PSX 150cc scooter [in Thailand]
1986 rebel Silver 450 Elvis
putting your bike info in your signature helps others help you !
Welcome to the forum
LoL @
Shadow Shack
. Classic = most of the parts are obsolete
Agreed 2017 isn't appealing no matter what lipstick is applied..
I'd rather rebuild a vintage honda CB450 Nighthawk
enjoy that new bike smell.. Ride safe
---
96 VS800GL Suzuki Intruder, 87 CMX250C Rebel,

79 CB400 Hawk (sold 93), 75 CB350 (sold 83), 71 CB350 (stolen 74)

Help others help you, Include Year and Displacement in your signature...
Welcome to the forum Jerry. Enjoy the new bike. Good choice. The 2017 is a crime.
---
1999 Honda Rebel CMX250C
2003 Harley Sportster 883 Hugger
1998 Harley FXDWG Dyna Wide Glide
ALL IN! GO TIGERS!
Join Date: Nov 2016
Posts: 199
Here is a picture of it. It is completely stock with under 40 miles on it. The picture is not that great, it was taken at night with a halogen light and a cell phone camera. I have an M/C Enterprises backrest and some saddlebags ordered for it. I also plan to get the M/C E luggage rack, and a forward control kit from BCB. I already have several things from my last Rebel that I took off before selling it. Haven't had much time to play with it so far.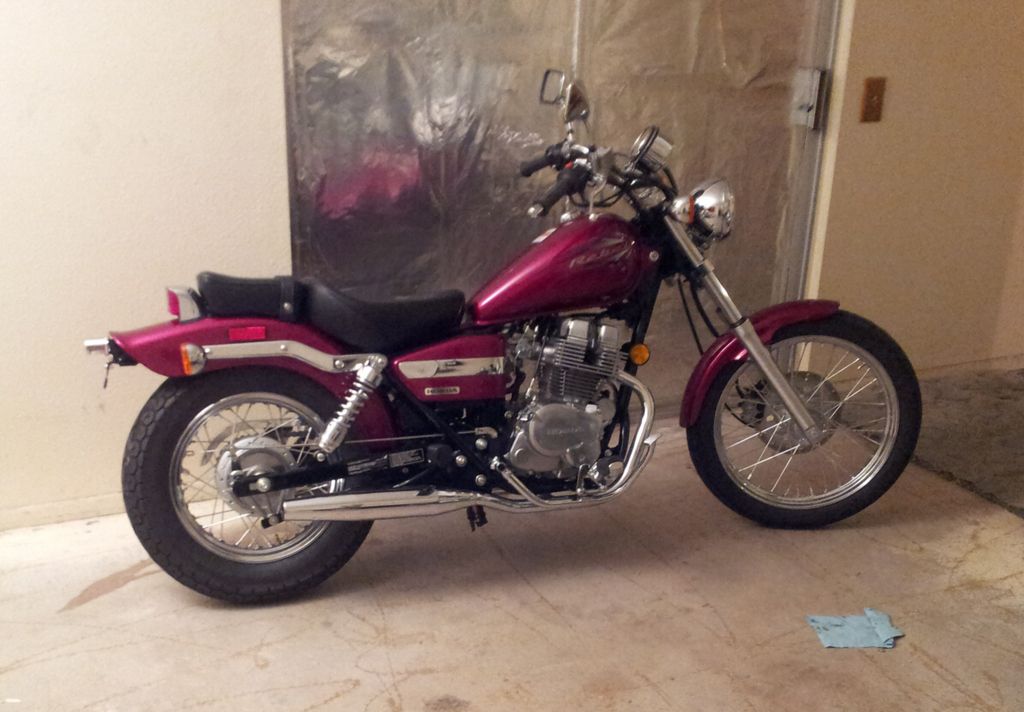 I'm jelly. I wish I could swing a brand new bike. But I've never bought anything new in my life, so I don't really know what I'm missing!😂

Sent from my SM-G930T using Tapatalk
Quote:
I'm jelly. I wish I could swing a brand new bike. But I've never bought anything new in my life, so I don't really know what I'm missing!😂

Sent from my SM-G930T using Tapatalk
I don't buy new things myself. The privilege of putting the first painful scratch on it comes at a pretty high price. I'd rather buy something a little nicer that's lightly used than the brand new thing of a lesser quality. The new scratches still hurt though..
---
2004 Rebel 250, 2003 BMW K1200GT (roadburner), 2004 BMW R1200GS(all purpose),
1996 Ducati 900SS CR (California Bike), 1973 Norton Interstate (in a box in the basement)
Currently Active Users Viewing This Thread: 1

(0 members and 1 guests)
Posting Rules

You may post new threads

You may post replies

You may not post attachments

You may not edit your posts

---

HTML code is Off

---